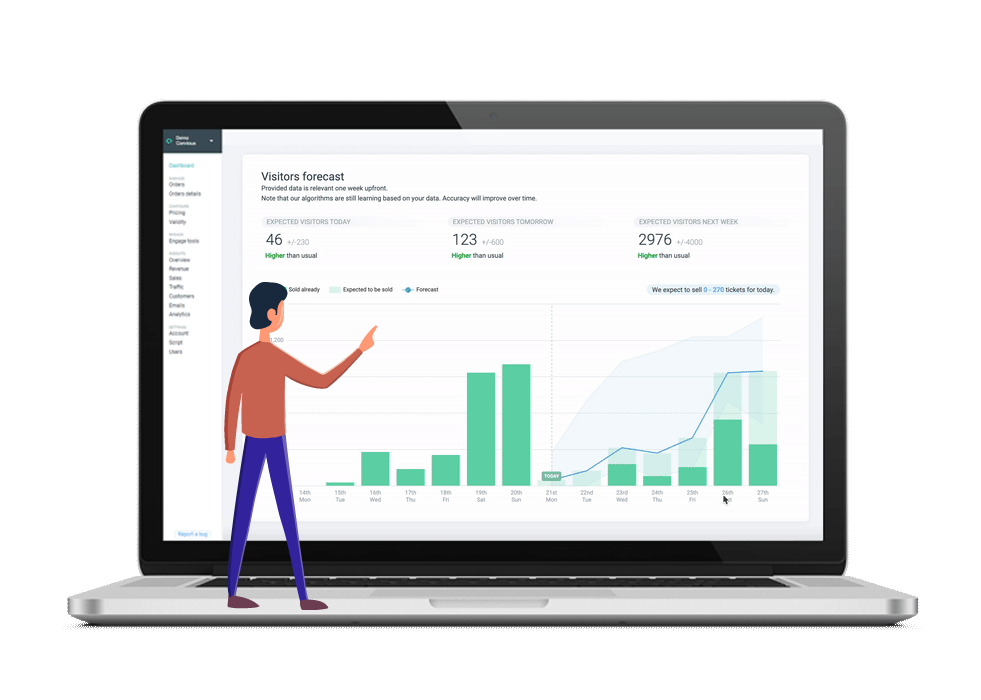 Book a demo with our experts
Want to find the best ways to overcome this second wave of the COVID-19? Let us show you how Convious will help your venue grow better and safer by selling more direct and revolutionizing your customer journey.
What can you expect from our call?

It's all about your guests and their experience!
A 30 min. virtual meeting with one of our team experts


Get a taste of the real deal! We walk you through the whole Convious Suite and show you how it works on the inside - from how it will look on your website, to all the data and insights you will get on your Control Panel, allowing you to know your business and your guests on a deeper level.


An introduction to Convious Crowd Control, which helps your venue comply with COVID19 regulations and offer a safe and distanced visit for your guests.


See examples of how other leisure venues are currently using Convious to grow their business and make up for lost revenue due to the pandemic.


Ask your questions! Get answers to specific questions regarding your venue, and discuss the your specific business goals and how they can be tackled with Convious.
Real-time admission pricing is the solution we were waiting for. We now have full control over our pricing & branding strategy.
CEO at Fort Fun
With Convious our online revenue has increased significantly, allowing us to focus on our visitors instead. Using early bird tickets showed us how simple and easy it is to spread your visitors by using time slots!
Cluster marketing manager SEA LIFE Scheveningen & LEGOLAND Discovery Centre Scheveningen
Suddenly, moving our customers with time slots seemed one of our easier challenges to tackle using Convious made it look like a piece of cake!
Head of Sales & Marketing Ripley's Believe It or Not! Amsterdam